Czech glass buttons for fashion
Glass buttons for fashion industry – which serve as clothing fasteners – has been made in Jablonec region for centuries.  The buttons made by H Glass have gained worldwide popularity thanks to their their quality, glossiness and attractive visual features
H GLASS is ready to offer various sizes of each model. We are currently producing fashion glass buttons from 5"(approx. 11 mm) to 20"(approx. 45 mm).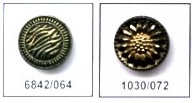 Why do our buttons come in so many varieties?
The style of our buttons usually reflects the taste of the market for which the buttons are intended e.g.: gold and platinum decorated buttons for Asian countries or dark, plain buttons made of black glass without any other décor for Southern Europe etc.
Below, you can see some of some samples of our Czech glass buttons for fashion industry. Feel free to contact us for details.